Dr. Shabany is a trained Periodontist with extensive experience in treating Periodontal disease. Our dental team has the capability of addressing early onset disease as well as advanced cases.
Treating Periodontitis
Red, swollen gums are a red flag for one thing: gum disease. If you have the symptoms, you're not alone. More than 80% of adults have some form of gum disease. Fortunately, there are many effective and pain-free gum disease treatments.
For gingivitis, the mildest form of gum disease, treatment typically involves a thorough dental cleaning, followed by daily brushing and flossing.
Advanced gum disease, also known as periodontal disease, requires scaling and root planing to remove stubborn deposits below the gum line. Periodontal or Gum Surgery is sometimes necessary to address more advanced cases of gum disease and to reverse some of the resulting bone loss when possible.
Soft Tissue Grafts
Soft tissue grafts require taking gum tissue from healthier parts of the mouth and inserting it over exposed places, where they are stabilized in place.
With proper care, this procedure can last a lifetime!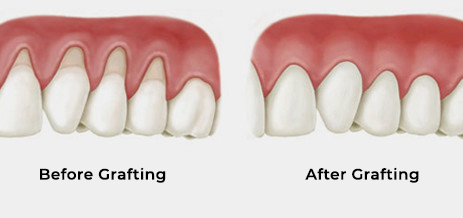 Our mission is to provide the highest level of care and service in the most pleasant environment possible. 
Metro West Dental & Implant Institute
443 N New Ballas Rd,
Suite 244 Creve Coeur,
MO 63141
Office Hours
Monday to Thursday 8:30am - 5:00pm